While most people are enjoying the first warm days of summer, those of us in the retail world know that it's all about the holiday spirit right now. Planning for the 2022 holiday season is in full swing.
This year will be crucial for many retailers with brick-and-mortar locations because they anticipate consumers will flock back to their favorite stores to shop for holiday gifts for the first time in 2+ years. A
National Retail Federation
consumer survey reported that 61% of consumers still rely on physical stores, but these same consumers are expecting more from their favorite brands. They are expecting an "experience". Consumer research shows that a
positive experience
in a store will increase the likelihood of a customer returning. Retailers are going all out to welcome their customers back and provide a shopping trip that will make them happy and open their wallets. Phase 3 is here to help you do just that.
For example, one of our longstanding clients, Neiman Marcus, was planning a strategic marketing campaign urging their customers to "reintroduce yourself to the world outside of your door". Our team supported the strategy by creating and installing 310 colorful doors in 36 Neiman Marcus stores nationwide. Each door was fabricated from 1" ultra board material. The floorsets were eye-catching, shoppable, and fun.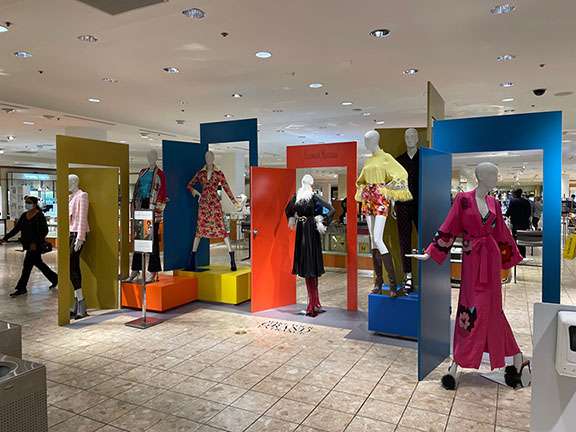 What Do We Need?
Creating retail displays that net a positive return on investment takes ingenuity, data, and strong print partners. Retail floorsets must be brand-right, tell a cohesive story, and highlight the products you sell. Every inch of your sales floor and windows are shoppable spaces. From window signs to product shelving to POS displays, deciding which retail displays are best for showcasing your product and offering a positive shopping experience is crucial to sales success.
That's why it's important to make data-backed decisions for store merchandising. Use past holiday season sales and inventory reports to inform your decisions about the best products to show off in your store. Keep in mind the sales trends you've seen this year. These product decisions will inform your display needs.
Integrate each display or sign into your holiday marketing messaging and visual identity. Give customers a chance to interact with your products whenever you can. Make the display pieces sturdy and easy to set up. Include actual products in as many display pieces as possible. Don't forget about shelves, drawers or cupboards, windows, doors, and other fixtures. Add shelf talkers or small display signs to integrate your holiday message. When done, your store becomes an immersive holiday wonderland featuring the benefits of your products.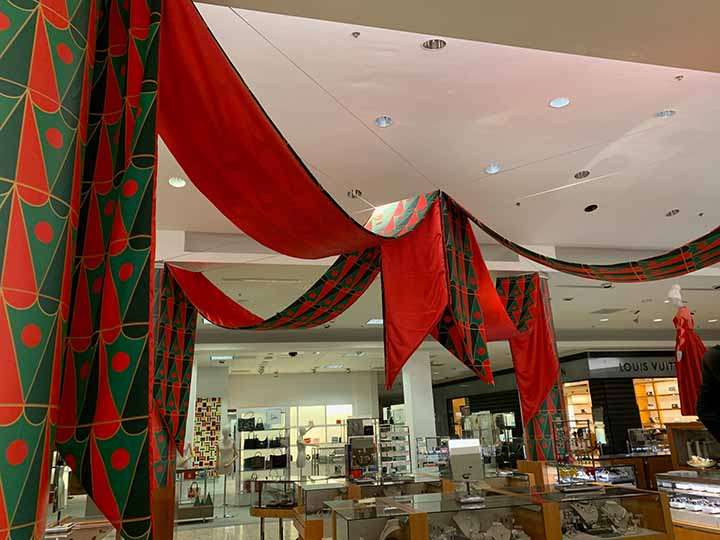 Why Do We Need Them?
People may believe that a great product sells itself, but, clever merchandising makes a big difference. During the critical holiday season, unimaginative retail displays can make or break your 4th quarter. Creating impactful and creative in-store visuals can bring customers into your store and compel them to buy your products and return for more.
Studies have shown that humans use sight more than our other senses to process information. We are all highly visual in nature as well as social beings. Two of the main reasons customers decide to shop offline are to touch and feel the quality of the merchandise and ask questions to an actual human instead of a chatbot.


The best way to make a lasting impression is to invite customers into a holiday setting that elevates your brand and creates a memorable experience. While this is not an example of holiday displays, the work we did for Hari Mari's flagship store in Dallas, in partnership with Mowax Visual, included the design, fabrication, and installation of unique display items such as surfboard and rope shelving, POP displays, wall murals, and window graphics. Every piece reflected the brand and showcased the product in memorable and shoppable ways.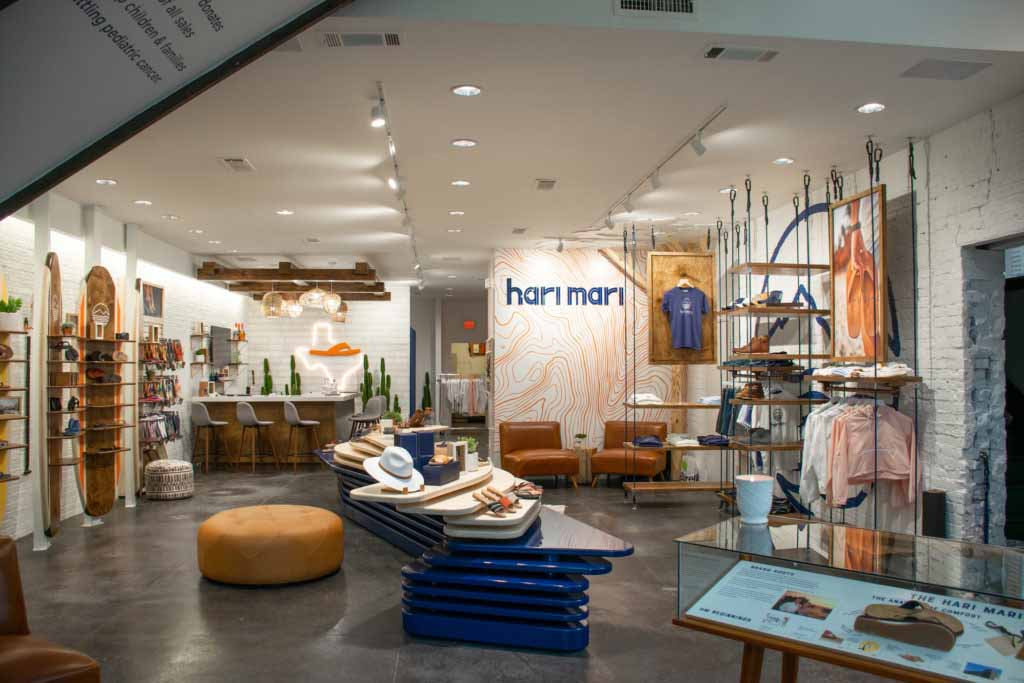 Introducing PhotoPop:3D
PhotoPop:3D is a revolutionary new technology that transforms 2D images into stunning 3D displays at a fraction of the cost of traditional plastic moldings. With PhotoPop:3D, your brand comes to life during the holidays and all year round. Every piece is a work of art that elevates your brand and provides a memorable shopping experience for customers.
Phase 3's creative and print specialists will expertly transform your product images into striking point-of-purchase materials that stand out from your competition. High impact, photorealistic 3D product displays are created with sustainable and recyclable materials. Turnaround time is fast, and the displays ship and store flat.
These 3D displays are standalone pieces, pole toppers, mounted displays, or wall art. PhotoPop:3D offers a whole new twist on retail displays.
Next steps
What brings your customers past your threshold? Your visual design and displays are a large part of that customer decision. It sets the stage for that immersive experience your customers are looking for. Even more important, a strong branded floorset can help customers make the right purchase decision.
Creating an environment that resonates is what Phase 3 is all about. We can make your business stand out from the crowd. Let's get started, contact us today.