We sat down with Ken, our Co-Founder and President, and asked him about Phase 3 – from our start 20 years ago to now. What has he learned, and what are some of his favorite memories?
What inspired you to start the company?
"The opportunity to start Phase 3 presented itself, and co-founder Max Nair and I – former college roommates – both always had an entrepreneurial mindset. So we thought, let's go for it."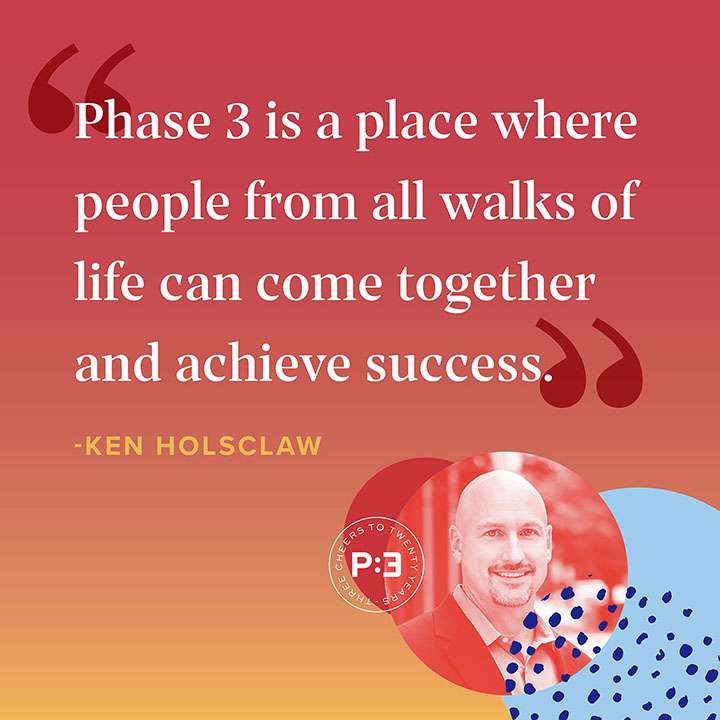 What was the industry like 20 years ago?
"20 years ago, the industry was much more segregated than it is today. Printers and finishing houses were separate from one another – you went to a printing company, and then to a finishing house, whereas now you find that in one place. Printing companies did not have creative, whereas now most do offer production creative.
On the agency side, you used a separate firm for everything you needed: a public relations agency, a digital agency, a creative agency – and now, it's all coming together into the "one-stop shop" model.
Since then, there have been significant advancements in printing technology, and the effect online shopping has had on the retail sector's growth and its needs are incredible."
Describe to us what Phase 3 was like 20 years ago. What did it look like? What was the work we were doing? Who was the team?
"We started Phase 3 with eight employees in a 5,000 square-foot space. There was no paint on the walls, no furniture, no desks or cubicles. We worked on card tables and sat on folding chairs. We had four salespeople, one project coordinator, one designer and two people in production. We were doing design and print, and the design was mostly production design.
Now, we have offices in five cities (including three production facilities), and 175 employees."
What are some of your proudest moments since you started Phase 3 – challenges you've overcome? New growth and ideas?
"My proudest moments have been seeing our employees develop over the years, both professionally and financially. Our Ideation to Execution positioning in the marketplace allowed us to be ahead of the industry – getting all marketing services under one roof – providing us with the added value that has contributed to our growth. Getting there of course included overcoming challenges as a team, which I reflect upon with pride."
Describe what the first acquisition was like, and what inspired you to go down this path of acquisitions.
"Our first acquisition was Gigantic Color in Dallas, a wide-format printing company that expanded our geographic footprint into the Southwest. Between the talent within the team, its client roster and reach, we knew this would help lead us in the direction we wanted to go. Our next step was acquiring agencies to help us get there. We needed to make acquisitions to achieve the critical mass and obtain the talent necessary to facilitate the Ideation to Execution vision, making us an even more valuable partner to clients. Since then, we've expanded into the Northeast, as well."
What are some of your favorite memories of the past 20 years?
"Wow – there are so many, and they truly all involve teammates. Putting "vanilla-rama" car freshener in the AC vents of Katie Richling's car as a prank. Hiring Aji Abraham. Troy McGinnis buying me a pair of boots when we first met. Holding Gail Turner's hand while she was in labor in the hospital until her husband arrived. In addition to the happy times, a lot of the most powerful memories have come from employees overcoming extreme hardships. Hearing the words, "she's going to be okay" from Lauren Farmer's orthopedic surgeon, and watching Jenny Harris bravely overcome breast cancer while working her tail off, taking care of customers and co-workers despite being incredibly sick every day for nearly two years. Holding Olawale's father's hand while he lay in bed in his final days. These memories have given me an appreciation for our employees, and their determination is something that I will always remember."
Describe what Phase 3 means to you.
"Phase 3 is a place where people from all walks of life can come together and achieve success."
What excites you most for the future of Phase 3?
"I am excited that our destiny is truly in our own hands. It is up to us to make it happen."