Ola Fakorede was one of the very first to join the Phase 3 team in February 2001 and wore a lot of hats – and remains a key team member to this day. He works at our production office in Atlanta and always brings a smile to our faces – learn more about Ola below!
Tell us about your first day.
"My first day at Phase 3 was exciting, busy and filled with meetings. The eight person staff met, and Ken laid out the company's dreams and expectations. I had a few other meetings, standard for a first day, with production and human resources. The rest of the day, I remember organizing and preparing equipment, and hoping for our first job to come in."
What was your first impression of Phase 3 and how did you learn about your job opportunity?
"I actually worked at C2 Media prior to Phase 3, where Ken worked. When I heard of Ken's new venture, I was just waiting for that call – and was so excited when I received it. I knew Ken and Max would achieve their goals and was honored to be a part of the start."
What was your role when you started?
"When I started at Phase 3, I held multiple roles. I was the finishing specialist, did self-quality control and packed finished jobs. I installed building wraps and picked up and delivered materials to and from customers and vendors. We all cleaned up after ourselves, the equipment and space, and did whatever we needed to, day in and day out."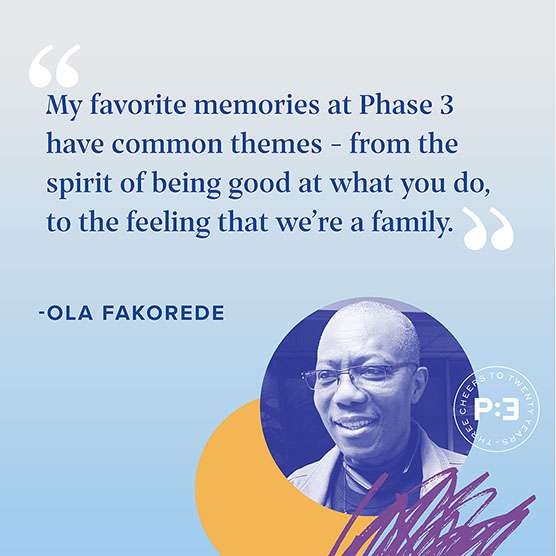 How has your role here evolved? Through this evolution at Phase 3, what lessons have you learned?
"My role has definitely evolved as the company has grown. At one point, I managed the finishing department, which included packing jobs. The finishing department then grew into two separate entities, large and small format. Since then, I have managed the departments – both separately, and combined. Throughout these shifts, I have learned to always welcome change and stay hopeful."
What is your favorite memory at Phase 3?
"My favorite memories at Phase 3 all have common themes, from the spirit of working hard, having fun and being good at what you do, to the feeling that we're a family – all working toward the same goals."
How has Phase 3 changed over the years to you?
"The company has changed so much in terms of the number of employees, customers, equipment and the volume we can handle. When I started, we all knew one another by first and last names. Now, we're a bit larger and it's more difficult to keep track, but nonetheless, there's always been a sense of community."
What is your favorite thing about Phase 3?
"My favorite thing about Phase 3 is Ken's strength, professionalism and leadership, which he's demonstrated to me both in my personal life and in my career."