We sat down with Max, our Co-Founder and Chief Investment Officer, and asked him for his perspective on the last 20 years with Phase 3 – what were some of his favorite memories, and what he looks forward to next.
What inspired you to start the company?
"Ken and I were roommates and teammates in college and had stayed in touch since graduation. I knew he had great leadership and entrepreneurial skills, and had started a career in the printing industry in Atlanta. Once I understood the future opportunity, I knew it was time to jump on it – and I talked Ken into going out on his own with me to start our own company."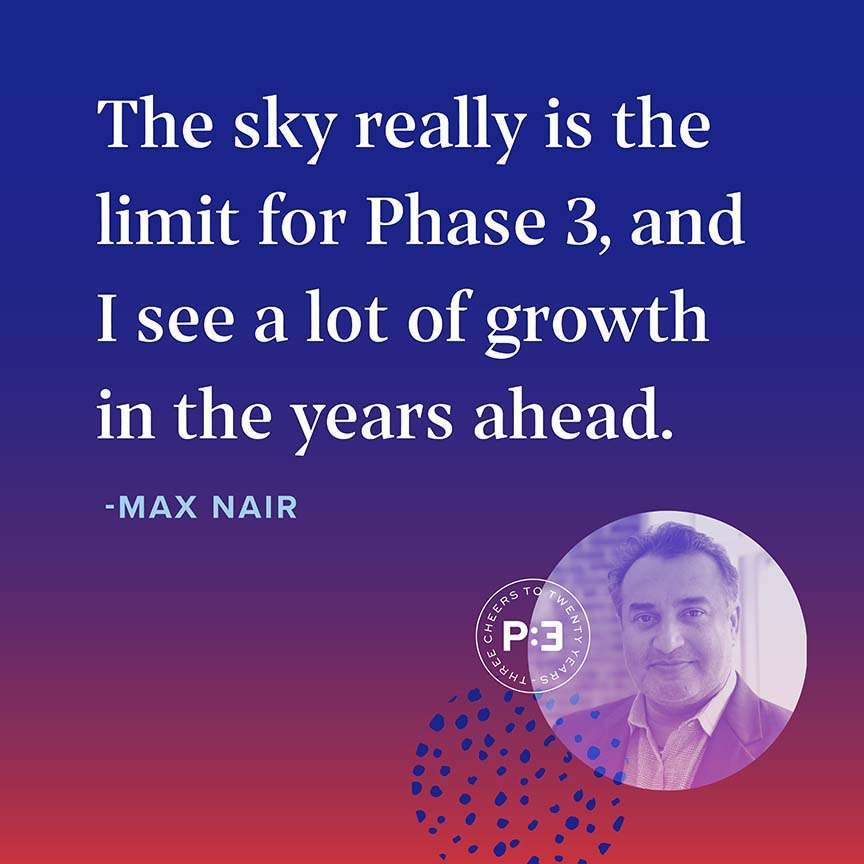 What was the industry like 20 years ago?
"The print industry was very fragmented 20 years ago. There were a lot of smaller players, one in every little town, but it was dominated by commercial, offset printing. Marketing agencies were separated from the print world – there were no "one-stop shops" as there are today."
Describe to us what Phase 3 was like 20 years ago. What did it look like? What was the work we were doing? Who was the team?
"We were very small, with just eight employees in a 5,000 square-foot facility. We did digital printing and we were growing fast. We were profitable in those first years, which of course was encouraging as we looked toward the future."
What are some of your proudest moments since you started Phase 3 - challenges you've overcome? New growth and ideas?
"Some of my proudest moments come from when we first developed partnerships with corporate clients. When large companies began coming to us as their resource for all print needs, it not only felt like a huge accomplishment, but it fostered trusted relationships that still exist today. Some of these clients still work with Phase 3, both on the print and agency side.
Another memory that sticks out to me was in 2012, when we first made Printing Impressions' list of Top 400 Largest Printing Companies. Making that list was a result of 11 years of hard work and dedication.
When it comes to challenges, we've made it through some of the hardest times in modern history, both economically and emotionally. From September 11th which happened in our first year, to the 2008 Great Recession, to COVID-19 – which we're still facing. These challenges have proven the resilience of our company. We are committed to taking it one day at a time."
Describe what the first acquisition was like, and what inspired you to go down this path of acquisitions.
"As we started thinking through what was next for Phase 3, what inspired us was the thought that, the bigger we are, the better quality of work we will win. There is not a huge organic growth opportunity within the print industry itself, so the way to grow is through acquisition.
We wanted to make the first moves toward bringing every client's marketing needs under one roof. Dallas was a city we wanted to be in, for its forward-thinking mentality and the geographic expansion it provided us. When we found Gigantic Color, not only was it a great business itself, but the talent that came with it was just as great. I like to say, 'when you buy a plane, you want a good pilot,' – and Troy McGinnis, now Phase 3's EVP, Print Services, is an extremely good pilot."
What are some of your favorite memories of the past 20 years?
"Apart from spending time with our employees, especially when we get together at the end of every year to celebrate the holidays and the year's high and lows, I truly have enjoyed every acquisition journey. Traveling to different cities, looking for different targets and meeting owners of various companies has not only provided good memories, but we've built wonderful relationships through it."
Describe what Phase 3 means to you.
"Phase 3 is sort of 'our baby,' and we take pride in the chance that we took 20 years ago. Most importantly, though, I am proud of our employees and their contributions. They have displayed their abilities year in and year out and carry out our vision of Ideation to Execution every day. Just 10 years ago, that was simply a vision – now, it's becoming the industry standard."
What excites you most for the future of Phase 3?
"It's truly hard to believe that 20 years have already gone by. While a lot of businesses are working to become that "one-stop shop," we have already done so, which makes me excited for our future potential. Buying trends are continuing to change, and we are already positioned to address them. We've built our company with attributes to make it easier for our customers, and we're at that critical size that allows us to capture better quality work, serve bigger clients and work on more challenging projects.
The sky really is the limit for Phase 3, and I see a lot of growth in the years ahead."