Dine the "Proper" Way in Historic Downtown Asheville
Mindi and Owen McGlynn's long-time dream turned to a restaurant reality when Asheville Proper, the city's newest restaurant concept featuring a live-fire cooking experience and locally sourced food, recently opened its doors in August 2020. The McGlynn's passion for the art of dinner service was driven by the desire to provide an experience that's "done right".
Asheville Proper delivers a unique dining experience while sticking to traditional feel-good food. Visitors are welcomed by charming and social ambiance that is sure to be the destination for great memories with friends and family. Located within the historic Grove Arcade at the epicenter of town, Asheville Proper is a standout scene that offers guests a fresh take on the classic American steakhouse, with local meat and coastal seafood cooked over custom grills, blazing coals and leaping flames, all framed in an open kitchen so you can hear the crackle of the fire.
Selected to introduce the concept, Phase 3's agency services team was ready to dive into this one-of-a-kind project. Our creative team worked closely with the visionary McGlynns to develop the concept's messaging and playful tone of voice. Envisioning a brand that delivers on the promise of "proper" dining, we created an eye-catching identity showcasing the concept's distinct personality.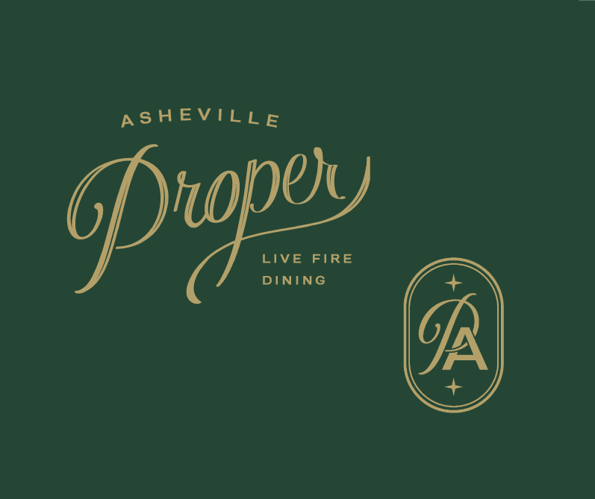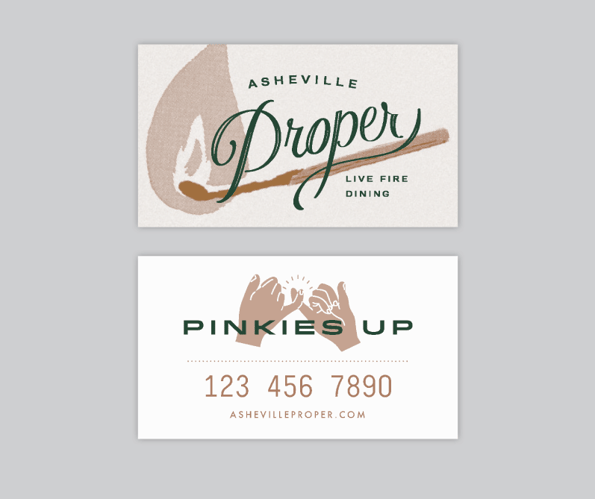 In order to develop a truly unique identity for a truly distinct concept, our designers hand-crafted a script font – a nod to old signage typography. We then brought the brand to life through a series of old phrases with a cheeky spin on what it means to be "proper" paired with vintage illustrations that were extended across postcards, calling cards and menus.
Our print experts then got to work to bring the brand to life across this suite of collateral, making recommendations for paper types taking into account texture, color and finish. Working closely with the creative team to ensure color accuracy and a tactile experience, Phase 3 helped Asheville Proper provide a touchpoint to complete their brand experience.
These posh-style visual elements allow Asheville Proper to seamlessly incorporate a unified brand both online and in the dining atmosphere. By connecting the unique approach to food and the interior of the space, the brand encompasses approachable and playful sophistication. The result showcases a memorable lifestyle brand that invokes a sense of elevated standards while highlighting an atmosphere where you feel enveloped in richness and a passion for things done right.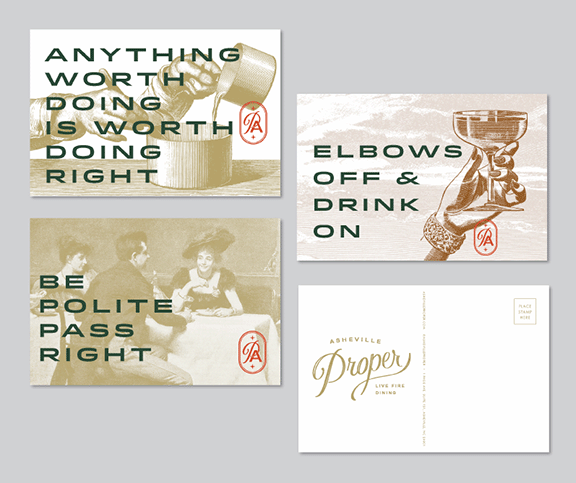 With a goal to open with a splash in August, Asheville Proper tapped into Phase 3's Public Relations team to develop an opening strategy that included media and influencer relations, grassroots marketing and two soft opening events – a friends and family sneak peak and VIP tasting experience. Our team drove meaningful results for the concept, resulting in target media and influencers attending the VIP event, and local media coverage in Plate Magazine, AVL Today, Mountain Xpress, Asheville Citizen Times, The Biltmore Beacon and WLOS-TV.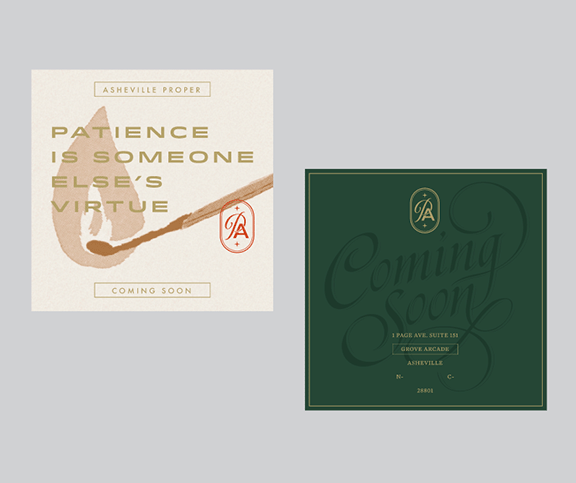 Asheville Proper's eccentric atmosphere was brought to life with fresh, suave brand elements that flowed with excitement-building PR efforts. Phase 3 enjoyed working with the Asheville Proper team to introduce an elevated and "proper" dining experience to Asheville's restaurant scene.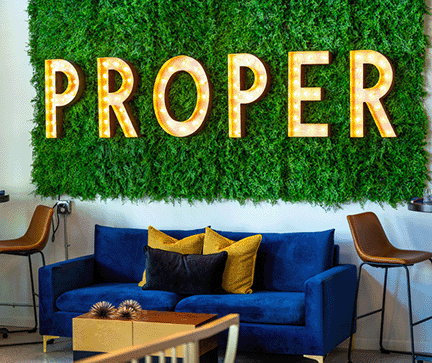 ---
Phase 3's experience and expertise is deeply rooted in the hospitality, food and beverage, lifestyle and real estate industries. If you're looking for a thought partner to re-introduce, reposition or launch your concept, give us a shout and let's talk!