As the COVID-19 virus continues to spread and impact our local communities, businesses and everyday lives, we want to take this opportunity to update you on Phase 3 and what we are doing to protect our clients and employees.
Phase 3 remains open for business and is operating at full capability with a full staff.
To weather these adverse conditions, we are taking the following steps:

1. Working from home
We have implemented an optional work from home policy for certain teams. All these employees have laptops and access to Phase 3 databases, systems and contact information and will have no disruption or hinderance in servicing their clients.
2. Redundancy
We have always had enormous redundancy in both our Agency and Print Divisions. Our Agency Operations are conducted out of our Atlanta, Charlotte and Nashville offices. Our Print Operations are conducted out of our Atlanta, Dallas and New Jersey facilities where all facilities use the same brand of equipment. Both the Agency and Print Divisions can easily shift work from office to office and plant to plant if need be.
3. Restricted Access & Curbside Pickup
We have significantly restricted outside access to our printing facilities to protect our employees. For those clients that prefer to pick up their jobs in person, we have instituted a curbside pick-up.
4. Fully stocked
We have a full supply of raw materials in stock, both ink and substrate, at all print facilities and have not experienced any supply chain disruptions from our global suppliers.
In our 20 years in business, Phase 3 has faced and overcome numerous challenges and we will continue to deliver for our clients and take care of our employees through this one and any others that come our way.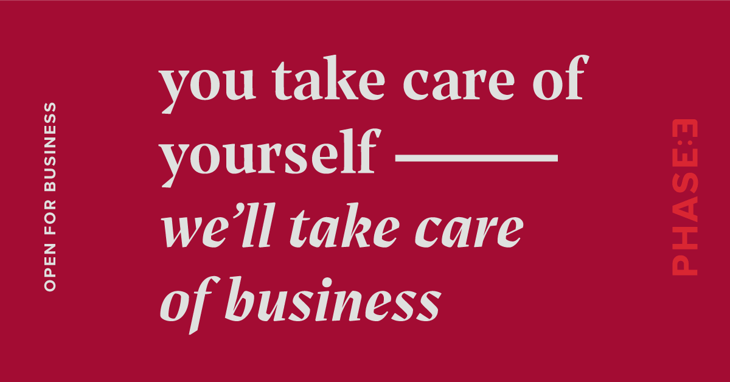 ---
Stay safe and let us know how we can help!