Change is constant, and the way we use our office spaces will continue to evolve.
As we adapt to the new reality unfolding in front of us, we're faced with serious challenges: How can we maintain and grow a collaborative culture? How can we better nurture employees into brand ambassadors? How can keep employee needs front and center? And how can we remind everyone of what we really believe and what we think is important?
Bringing a company's brand to life and bringing its employees together are both accomplished inside the office, and environmental branding—integrating the essence of a brand into a physical environment—is how it's done. Here are some big new trends in workplace environmental branding that may inspire you to rethink how your office looks and feels to employees and visitors:
Wayfinding Redefined:
Finding your way around the office as a new employee or visitor, especially in a larger office, can be daunting. But wayfinding signage doesn't just show the way now—when included in an environmental branding plan, these important markers also remind long-time employees that they're in a familiar and comforting place that understands and cares for their needs while reinforcing an overall visual brand consistency.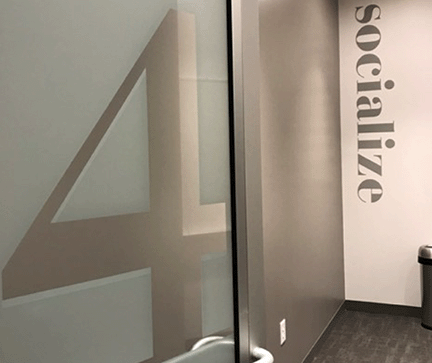 Universal Consistency:
From workspaces and meeting rooms to cafeterias and reception areas, every element in the environmental branding system becomes an important asset that creates a more powerful whole, a more meaningful and resonant day-to-day experience. And the more elements represented within the system, the more employees can feel and share the truth of your brand.
Micro-Collaboration Stations:
Collaboration needs the right kind of spaces, with the right kind of energy. Creating spaces where people can discuss, think out loud, and create organic consensus are critical to unlocking new levels of productivity. And there's no better opportunity for reinforcing your company's brand essence or team ethos than when employees are engaged and thinking together.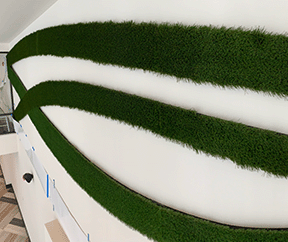 Living Walls:
Humans have a deep natural inclination to be outside at least some of the time, and it's no secret that plants help create fresher, healthier air in closed spaces. One sustainable trend in office environmental design has been the inclusion of living walls which integrate specific plants or other kinds of greenery that not only enhance the quality of air we all breathe, but offer a way to bring the outside indoors.
Storytelling:
Environmental branding is a complex process that yields a dynamic and impactful space. It requires far more than simply adding logos and slogans to your lobby walls. Today, effectively branded office spaces rely on a complete, planned system that interprets your company's brand as a visual system with components that stretch across the numerous spaces and items within your office. The result is workplace that tells a story, not just of your origins, but of what you believe, and how you live out your mission. When storytelling is integrated into your environmental branding plan, connecting your people with your ideas becomes a natural process.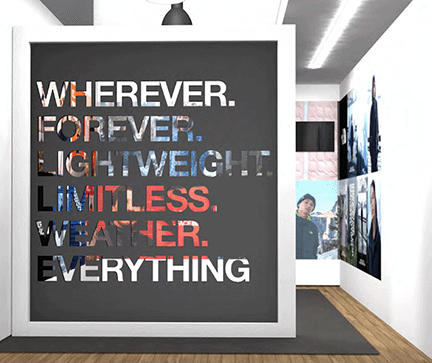 Transform your office into an asset that builds your brand and brings your team together. Phase 3 offers comprehensive, ideation to execution environmental branding services. We bring brands to life in workspaces and create culture-building foundations for corporations of all sizes and in all kinds of places. Get inspired and explore the possibilities, and when you're ready to tell your story in dynamic environmental ways, contact us.
---
Ready to inspire? Let's talk!