As cities begin to reopen, it has become clear that people expect to see businesses enacting new safety protocols and utilizing PPE materials. But are companies investing in the right resources? We sat down with Kimberly Daniel to talk about different types of PPE, how customers are using PPE now, and what the future holds for PPE.
What type of resources and PPE products have clients been asking for the most in the past few months?
It seems like clients' biggest concern is how to keep employees and customers safe and how to clearly communicate with them. For some businesses that means utilizing face shields, masks and gloves, and for others that means utilizing social distancing graphics, directional graphics and barriers.

Have you seen any interesting industry innovations for PPE products?
Yes, PPE in itself isn't very exciting, but it has been very interesting to watch innovation and creative kick in to help fit the ever-changing needs of our new "normal". My favorite P3 PPE product is our wooden hand sanitizer stations. Not only are these pieces beautiful - featuring stained wood and clean lines - but, we also designed it with the future in mind. You can remove the hand sanitizer dispenser and use the stand for branded signage. I also like to see versatile products like adhesive floor graphics being used to keep people safe through social distancing graphics, directional graphics and decals.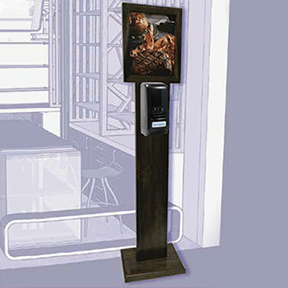 How can clients be a good steward of the budgets they are using on PPE? What are the best resources to invest in at this time?
I think the best thing you can do is connect with a company like Phase 3 that is knowledgeable in a wide variety of PPE options so that we can walk you through the best combination of solutions to fit both your needs and your budget. Protection and communication seem to be the most important elements right now, so how can you best protect your employees and customers while communicating clearly to them at the same time? Masks are one easy solution to start with because you can brand them and they can be used professionally and personally.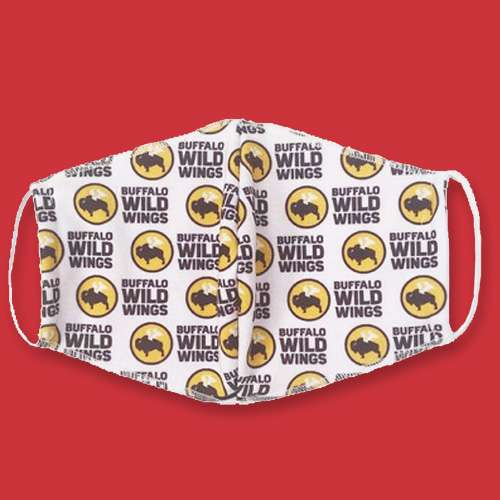 Has your team started to talk about what people will do with the PPE products when we do find a vaccine? Are there some products that are better than others in terms of waste management and sustainability?
Yes, this is a hot discussion right now. We are really trying to think ahead and find solutions that can be used post COVID-19. The wooden hand sanitizer stations are a great example of that - it holds hand sanitizer now but could display wayfinding signage in the future and it is constructed from a recyclable material.
Barriers are also a top seller right now but you may not have a need for them a year from now. A great alternative to barriers are retractable banner stands with clear PETG inside of them. This allows you to create separation without blocking visibility. Plus, once you no longer need them as barriers, we can remove the PETG and print new graphics on vinyl or fabric for you in the retractable stand to use for future communication, tradeshows, etc.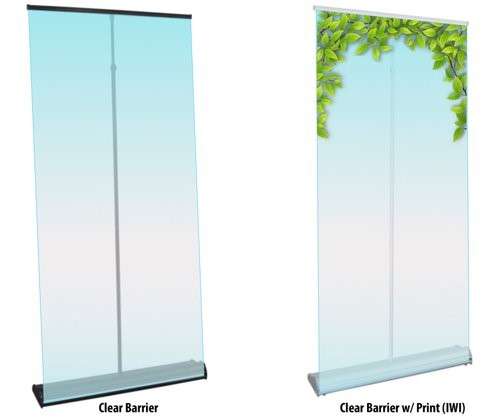 What are clients' key considerations when purchasing PPE? Is it all about price? Does sustainability come up in the conversation?
When all of this started it was very much based around price and availability. Now that availability isn't as much of an issue, we are able to look into sustainable options as well as options that fall in different price points. For example, when all of this started people needed masks and would take whatever they could find. Now, we are able to discuss things like adjustable straps, branding the masks if they are for long term use versus disposable one-time use, etc.

Do you think that clients are considering PPE for the short term, or is it something that they will build into their budgets and planning long term? Does that play into what kind of PPE products or materials they purchase?
Honestly, I think the general feeling is one of uncertainty. With rules and regulations varying so much based on location and industry, it is difficult to get a good understanding about timing and needs for future planning. I do believe PPE in the workplace will exist in some capacity moving forward. COVID-19 caught us all off guard and most businesses are trying to find reasonable solutions to be better prepared in the future. This may mean barriers remaining in place in retail or restaurants, or this may mean keeping a small inventory of masks and sanitizers on hand permanently.
COVID-19 has generated a lot of great conversations and opened a lot of eyes on how to protect employees while allowing them to keep moving. I see an emphasis on sanitation and staying home when you don't feel well remaining relevant as we look to the future.

Do you see that there will be a need for new kinds of PPE in the future?
Yes, a pandemic like COVID-19 is not the type of thing that people will easily forget. Finding ways to prepare, protect and prevent will lead to new PPE solutions over time.