Trade show season is upon us, and we've been helping our clients put together comprehensive strategies for their events.
But in a crowd of hundreds or thousands, how do you stand out?
We sat down with Joe Schlosser, Director of Promotional Products, to understand what promotional items clients can use that are useful, creative and create a lasting impression.
---
What are companies looking for? What are their considerations?
Companies are always looking for something new and exciting, but also something that does not cost a lot of money to give away. This is tricky when suggesting promotional items because we want to recommend items that have a purpose and shelf life beyond just the event. We have found that tech items and accessories for your phones and tablets are always a popular giveaway.
Aside from price, we usually have to work with pretty tight turn-around times for production. Using our experience, special pricing arrangements, and industry knowledge, we can usually suggest some great options at a reasonable cost with really quick turn times. Another consideration is travel. The items need to be small in size and lightweight so that attendees will want to pack the item and take it home.
You mentioned "shelf life." Can you expand on this?
It's important that the promo has lasting value if possible. We don't want the customer to just throw away the promo after the event, we want them to use it again and again! Some companies consider shelf life when buying promos, but others do not. However, I am a firm believer in providing solutions and products that always exceed our clients' expectations. Being creative with promotional items is what can set you apart from all of the other promotional distributors. It shows our clients that we have their best interest at heart and are not just trying to sell them the next best widget.
What are the best trade show/conference giveaways you have seen?
Believe it or not, simple items like journal books, laptop camera covers, round lip balms, carabiner bottle openers, smart phone wallets, chip and snack bag clips are all very popular. A 3-in-1 USB charging cable lanyard is always a huge hit – never be without your charger again! People just love to get these kinds of items.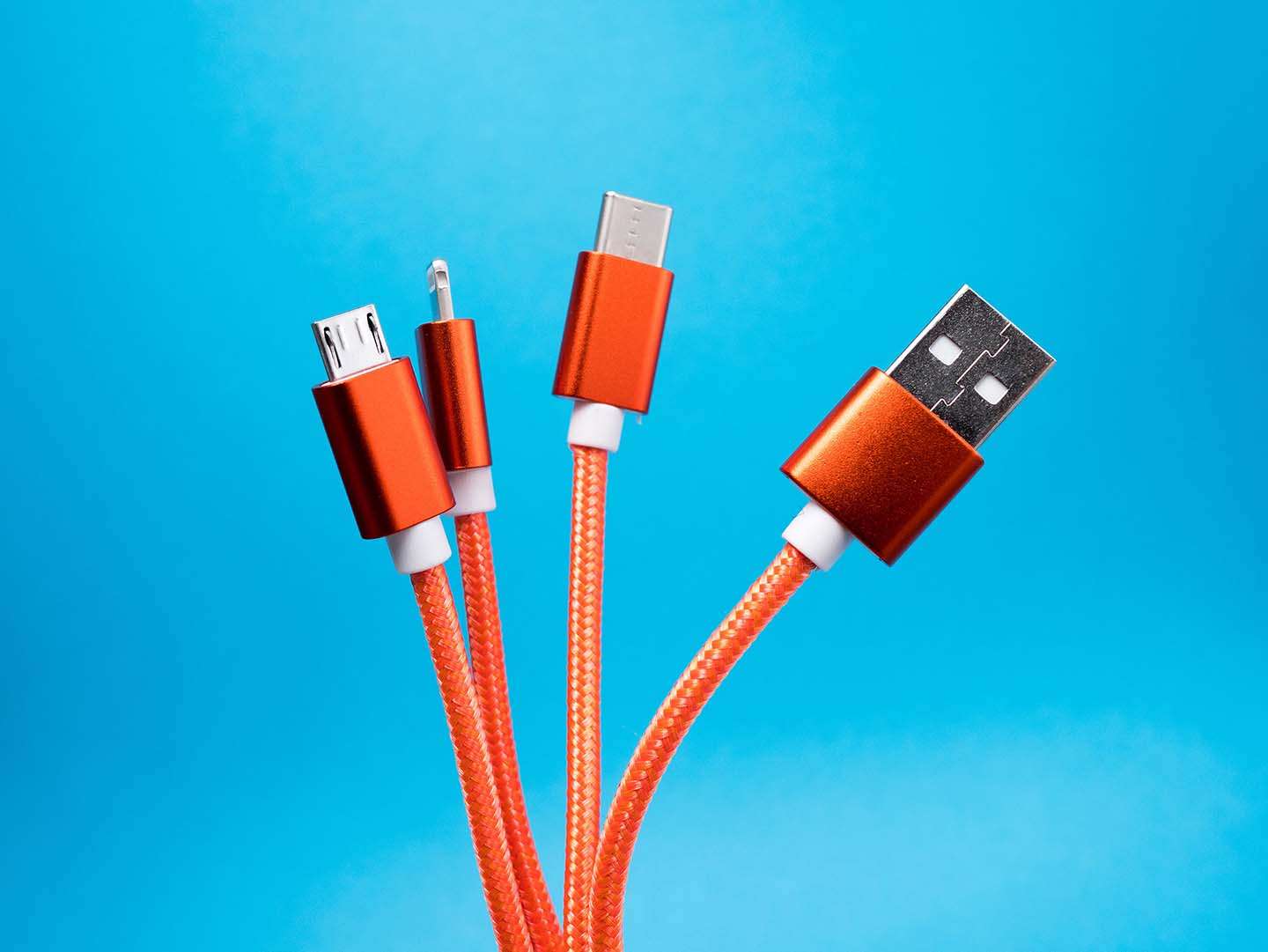 Do companies ever do custom giveaways at trade shows?
Yes! One of our clients, Floor Coverings International, has a mobile showroom service van that is the signature of their franchise business. They bring the products to their customers' homes in this mobile showroom that contains all of the floor samples and colors. They asked if we could produce a custom stress reliever that looked like the mobile showroom van they have, at a price that would not blow up their budget. We were able to work with one of our great vendors and produce a miniature replica of the mobile showroom van. It has been a huge success and very popular item at the shows they attend.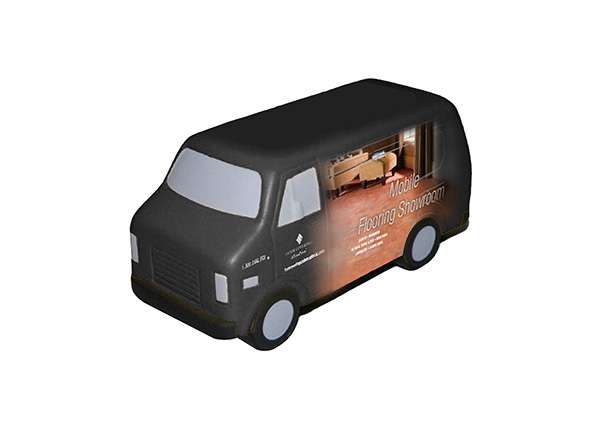 We also recently created guitar picks that were used at a Floor Covering International's vendor showcase held at the Hard Rock Hotel in Los Cabos, Mexico. The guitar picks were a natural fit with the Hart Rock Hotel association. Attendees had to visit each supplier booth to get a guitar pick, and the picks were then turned in as raffle tickets for a chance to win a prize at the end of the event.
Do you have any examples of awesome trade show swag we have produced lately?
We just produced custom tote bags for an HR Technology client of ours highlighting a new marketing message they were rolling out. We printed on both sides of the custom tote bag and on the custom interior pocket as well.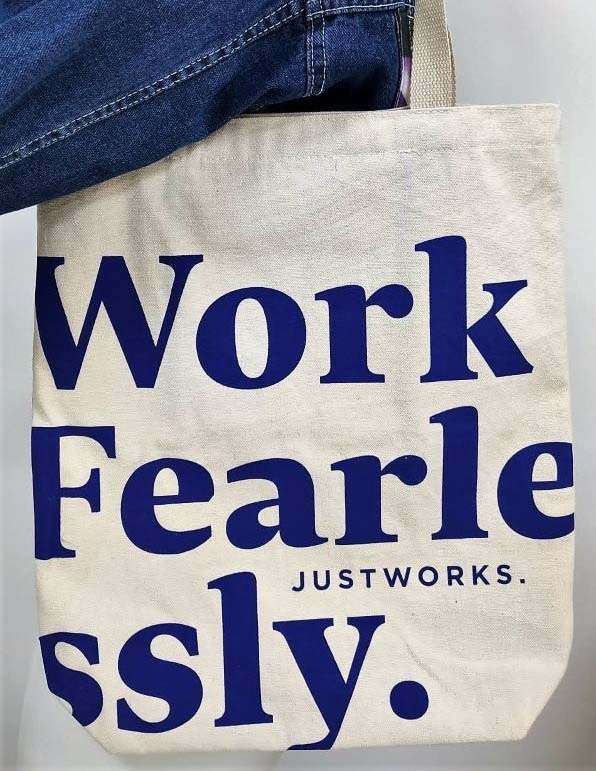 We also recently produced a custom die-struck gold lapel pin. The custom lapel pin was a challenge because we had to locate a US supplier that could produce the custom lapel pin within the production time frame, which was very, very tight. Using our PPAI network, we were able to locate a domestic supplier that could produce and deliver the lapel pins in time for our clients convention. The lapel pins were used to celebrate our client's 75-year anniversary and only given away to select customers.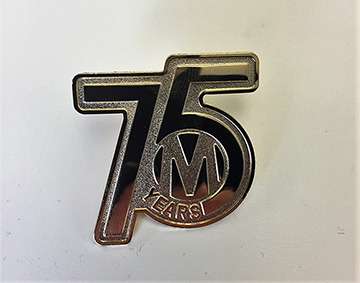 Speaking of select customers, do you often see tiered promotional products?
Yes, this is quite common in fact. Companies will have a general public giveaway for people walking by the booth, but they will have a higher dollar item to give to the more serious customer that comes into the booth and spends time with the salesperson.
Anything else to share?
People are always amazed by the simplest things! The item that received the most attention at a recent show was the Laptop Camera Cover. At first, people thought it was a USB jump drive. But then, as they looked closer, they were pleasantly surprised. You could see the lightbulb going off in people's minds when they picked it up and realized this simple little item would help maintain their privacy when online. The Laptop Camera Cover was attached to a custom backer card with instructions on how to attach it to the computer and cover the camera. I could have given away double the amount that we had on hand! It's always gratifying for me to watch a customer discover a new promo item and enjoy it.
Need some creative promo help for your next trade show or event? Phase 3 is here to help!
Check out the lastest promos and news on our promos website.