How Sports Teams Turn Events into Showstopping Spectacles
You may have experienced it for yourself: A big bowl game, a league draft event, or even a player meet-and-greet for charity, where your favorite team has transformed a location into an immersive and engaging space that tells you something special is happening, and makes you feel all that big energy.
­
How do they do it? How do these team organizations of all sizes and sports create this special marketing magic? How will sports teams adjust their in-stadium experiences in response to COVID? It takes a team of pros to pull it all together and pull it off. Here are some behind-the-curtain insights from our Phase 3 experts on the logistics of creating a stellar sports event and team environmental branding. If you want to make fans feel the frenzy and engage with the event, you have to plan from all the angles. Here are six things to consider before starting production with high-profile branded sports events: ­­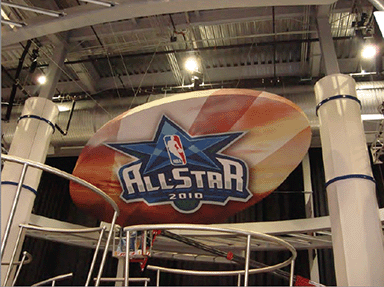 Timing:
Sports teams need exceptionally high responsiveness and smart timing. When you're dealing with sports teams, you're often dealing with sudden changes of fortune—decisions on playoffs, unexpected wins or losses, outcomes of championship brackets. Staying ready to go for an event means staying up to date with your team on a daily basis since you'll likely have 72 hours or less to ideate, create, design, produce, and install the materials. For the P3 team, we know we have to be ready to catch the ball so to speak, producing urgent items overnight and installing them on the day of the event. And timing also can be affected by things like weather, venue issues, and security, so agility and flexibility are key.
Installation:
This is where you really need the experts. Our P3 installation coordinators can examine and measure a space with the ultimate precision. And since there's usually no time to correct mistakes, it has to be perfect the first time. Every space is unique with different elements and different proportions that require detailed measurements. You can also never underestimate the challenge that different surfaces can present for graphics applications. Without the right expertise to guide materials selection, your graphics could be damaged or even fail to remain in place during the event. With complex elements, tight timelines, immovable deadlines, and all the publicity focused on the event, everything has to install easily and remain in place to allow the show to go on and the team to look great.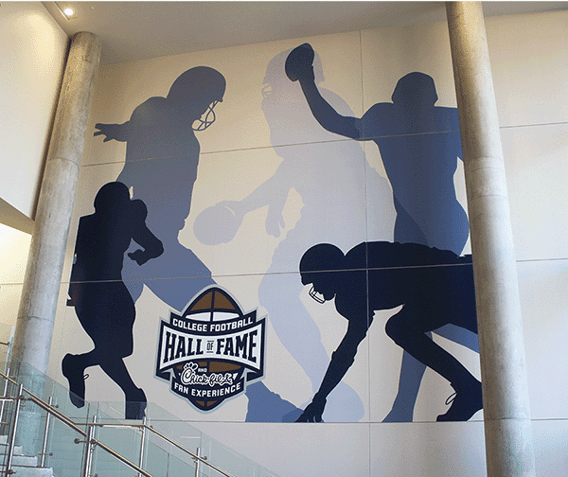 Colors:
When your team color is off, you know it and feel it. It has to be perfect because fans expect nothing less, and most teams have invested enormous resources in providing a strong and consistent visual brand across their facilities, uniforms, and marketing. So when it's time for a branded environment for the team, even a temporary one for an event, those colors and symbols must be represented as accurately as possible, no matter what new form they may take or substrate they may be printed on. Good production experts can perfectly match team colors using top of the line print production equipment, substrates and ink selections, and translate them to any new object or surface.
The Inside Team:
People are the real power behind marketing that moves fans. Project managers, designers, press operators, fabricators, installation coordinators, and others all work from the same team playbook (in this case, the team's brand guidelines) to provide consistent event elements. These are the people that are ready to go at a moment's notice to help celebrate wins, recognize MVPs, and give back to the fans and the community. Complex or large-scale event projects require end-to-end management by a team that seamlessly provide high quality design and flawless print production. There may be multiple team locations that require environmental branding, and you want each location to feel connected, but each space may present its own logistical, structural and surface-related challenges - experts will know how to adjust the design, production and installation strategy in order to produce one cohesive experience. Consultative project managers ensure that logistical issues are resolved and that staging areas are fully prepped for each step of the event.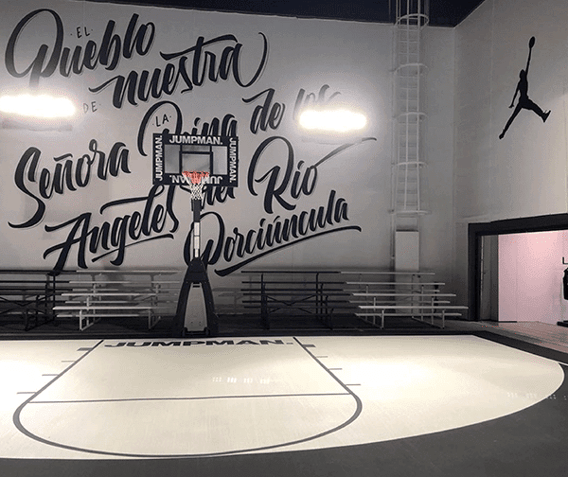 Interactive Moments:
Whether you're working on a whole awards show or making your half-time and fan features bigger and more special, there are plenty of opportunities for connecting with people while keeping them safe and socially distanced. By offering fans a way to become part of the action or take part in play, teams can build more rapport and make more memories. Naturally, there are sponsorship and co-marketing opportunities here as well—a tire manufacturer could offer branded racings strips for fans to challenge each other, for example.
Building Post-Event Brand Equity:
Finally, don't forget that there are ways to make a sports team event pay dividends into the future. Season ticketholders and other longtime fans appreciate the little touches and gifts that make them feel special and rewarded for their loyalty. Thank you bags, pins, and even apparel for event attendees can all be generated quickly just in time by an agile marketing partner. These items not only amplify the excitement of the event, but provide ways for fans to feel connected afterwards as well.
---
We're all dreaming of the day we can return to the stadium and watch our favorite sports team from the stands, hot dog in hand. It's a unique moment that presents a unique opportunity to rethink your facility's environmental branding. If you're looking for a thought partner on how to refresh and reinvent your fans' experience, let's talk!