Selecting the right materials and method of printing for your marketing collateral presents an exciting creative opportunity to show your brand style and positioning.
No matter what industry your company is in, most organizations today have a sizeable collection of marketing collateral to guide their customers through the buying journey. This collateral can include everything from rack cards and point-of-purchase displays to email newsletters and websites.
Choosing the right mix of marketing collateral is no small task, and just as there are different options for creating online assets, there is also a wide array of options when creating and producing printed marketing collateral.
There are many different types of printing processes such as offset, digital, 3D, large format, screen printing, and more. Picking the right materials and method of printing for your marketing collateral presents an exciting creative opportunity to show your brand style and positioning.
For the purpose of this article, we are going to focus on small format offset and digital printing for marketing collateral such as brochures, sell sheets or postcards. Below we explain the differences between the two methods to help you understand which approach may be best for you:

Offset Printing – the Tried and True
Offset printing, also called lithography, has been around for more than a century and for decades was considered the best way to print just about anything commercially. Offset printers typically use a four-color process consisting of the colors cyan, magenta, yellow and black or CMYK. These colors are combined at various percentages to print full-color images. Custom ink colors, such as Pantone or PMS colors, can also be used to get an exact color match for brand elements and the like.
In the offset printing process, the collateral design is burned onto metal plates, and each color has its own plate. The design is then transferred from the plates onto rubber rollers. The different colors of ink are spread onto the rollers, and the paper is run between them to get the final image. While there is an initial time and cost to set up the metal plates for your design, offset printing is generally best for high volume print jobs as offset presses can print many pieces very quickly and more cost effectively than digital printing presses.
Digital Printing – the Up and Comer
The first digital printing press, Indigo, was introduced in 1993 and forever changed the printing landscape. Unlike traditional offset printing, this technique does not use custom plates and rubber rollers but applies a design directly to the printing surface with liquid ink or powdered toner. Digital printing uses the same four-color process and CMYK color breakdowns and custom colors can be also be mixed; however, this is usually not needed because of the high degree of accuracy on color matching with CMYK.
Since the design is not burned into a plate, digital printing gives marketers the ability to customize information within a single print job, providing flexibility and personalization at an economical price. You are also able to proof the print on the press and make immediate adjustments. If you need to print small quantities or need to turn something around quickly, digital printing is the better option.
---
We've put together a helpful chart to help make the decision on which printing method to use: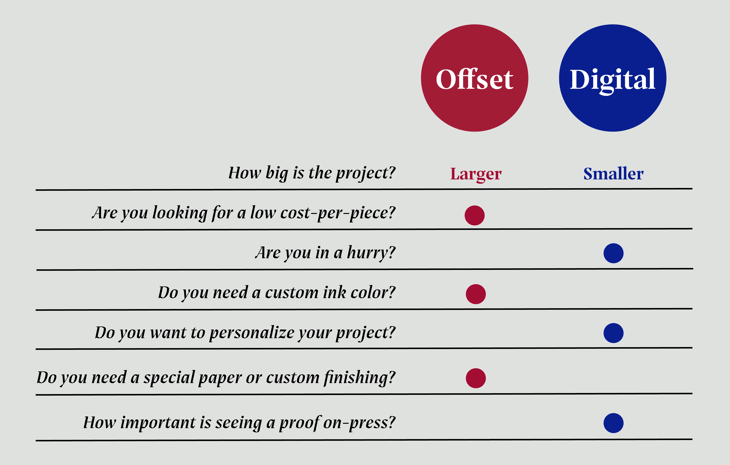 ---
The world of printing is constantly evolving and the product you understood, even months ago, is probably different now. As the world of digital continues to progress, the differences between the offset and digital printing continue to shrink. Since we offer both options at Phase 3, we can walk through the possibilities with you and help you make the best decision for your company, producing a final product that looks amazing, meets your deadlines and hits your budget.
Download this useful glossary of common printing terms so you can impress your boss and entertain your friends with your print production prowess.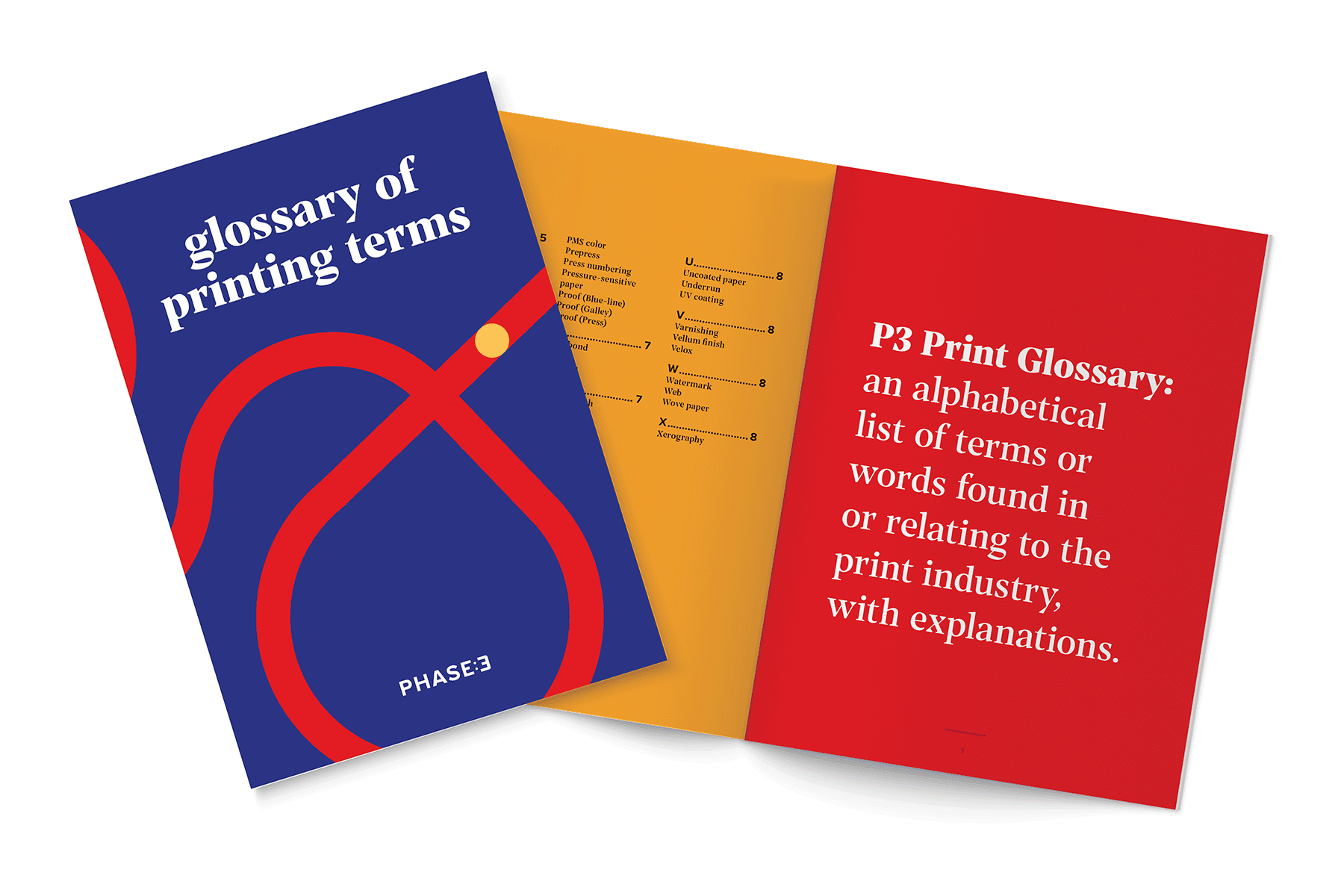 ---
Phase 3's team of creatives and production experts are here to help you make the best decision for your branded collateral.