Are you a college sports fan? If you are, you may have heard that the University of Georgia recently spent $80 million on renovating and branding its facilities. The renovations included:
A locker room with personalized lockers incorporating comfortable seating and digital screens displaying each player's name, photo, and number

A barbershop, private lounge, and nutrition bar

New therapy, plunge, and hydrotherapy pools

New dining space with a demonstration kitchen

A uniform display room accessed by facial recognition technology

A state-of-the-art weight room

A sports medicine clinic
The results were no doubt impressive. But the question is, was that investment really necessary? University officials said it was because of the competitive nature of recruiting for a college team. These bells and whistles give the university an edge in convincing not only athletes to come to the school but also donors to support the program.

We see images of college mascots and logos on scoreboards, external signs, and gym murals every time we watch or attend a sports event. It's an impactful way to build loyalty, engagement and credibility for the school's brand. As a result, environmental graphics have become an integral part of many educational institutions' branding strategies.
What are Environmental Graphics?
The University of Georgia's national championships and overall brand are celebrated on almost every flat surface, including walls, floors, and ceiling, not to mention every video screen in Butts-Mehre Heritage Hall athletics headquarters. That is a prime example of facility branding using environmental graphics.
Environmental graphic design (EGD) is the field of design in which graphic design, building design, landscape design, lighting, art, and other elements are deployed to enhance a visitor's experience through the visual depiction of a brand in an environment. You can see EGD in wayfinding signs, floor graphics, murals, light fixtures, artwork, banners, building grounds and gardens, and more. The intended results are a layered experience in which a brand's identity is enhanced through strategically placed human touchpoints within a space. In the case of a college athletic facility like at the University of Georgia, EGD enhances school pride and shows potential athletes, students, donors, and others just how great it would be to be a Georgia Bulldog.
While the University of Georgia's results were spectacular, there are more affordable ways to brand a facility authentically. An organization doesn't need $80 million. They don't even need $1 million. Instead, they need a strong brand, an open and creative mind, and the right environmental graphics design partner. This holds true for any location-based organization, educational or otherwise.
Branding an Athletic Facility
Character. Leadership. Competitiveness. Excellence. Strength. These are the attributes both athletic directors and business employers look for when recruiting. How do you know when an athlete or prospective employee has these characteristics? Experienced professionals often rely on gut instinct.
The same can be true when discussing how to illustrate a brand in any building, including an athletic facility. Branding is critical to an athletic team's recruiting success. While the recruiter is assessing whether an athlete will fit into the team, the athlete is doing the same for the school. That gut feeling when they walk into a building will affect their decision-making. In an athletic facility, it can also influence donors' gift decisions and fans' experiences on game day, even from a television or computer screen. Environmental graphics reflect the strength of a brand, just like your best athletes or employees.
Environmental graphics are a simple and relatively cost-effective way to enhance a school's image and connect with students, their families, alumni, and donors. Various choices include wall vinyl, floor graphics, window film, wallpaper, and signage. All are entirely customizable, durable, highly visible in buildings and fields, and impactful solutions to the first impression challenge.
Here's a case study from The University of the South in Sewanee, TN. Our environmental graphics team created high-impact school spirit moments for the walls, ceilings, floors, and doors in athletic buildings, common areas, and classrooms. The result is an integrated branded environment highlighting every student's, teacher's, and alumni's pride in being a Sewanee Tiger.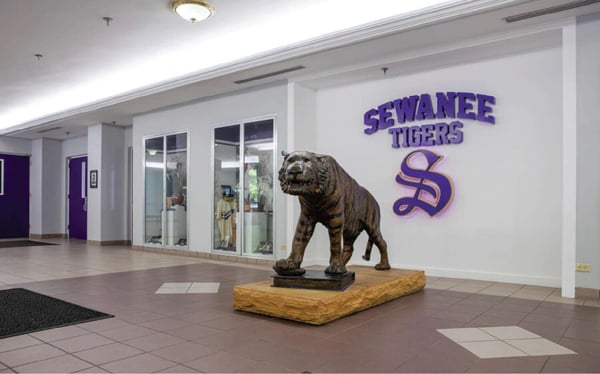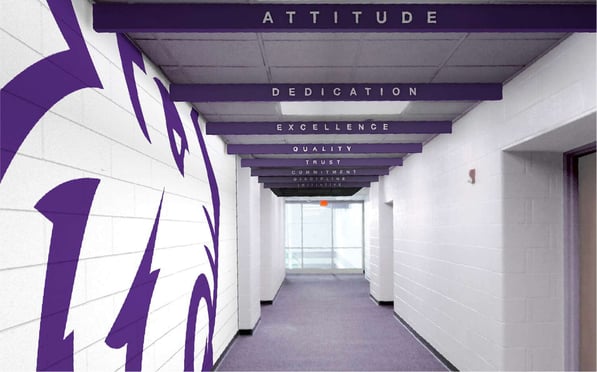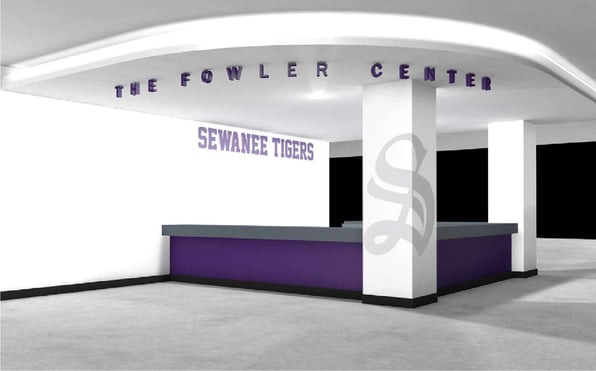 Level Up the Creativity
When it comes to environmental graphic materials, the sky's the limit. While many schools will choose durable materials like vinyl, metal, or glass, there are other choices. If a school's brand is unconventional, it can select unconventional materials to create an unforgettable first impression.
Here's an example of unconventional materials used in a lobby display we created for another one of our clients. Their offices are adjacent to Truist Park, home of the Atlanta Braves, so as a nod to their location, we custom fabricated this branded display piece for them, using baseball bats as the canvas for the city skyline. Imagine using baseball bats (or hockey sticks or football helmets) in the lobby of your stadium or facility!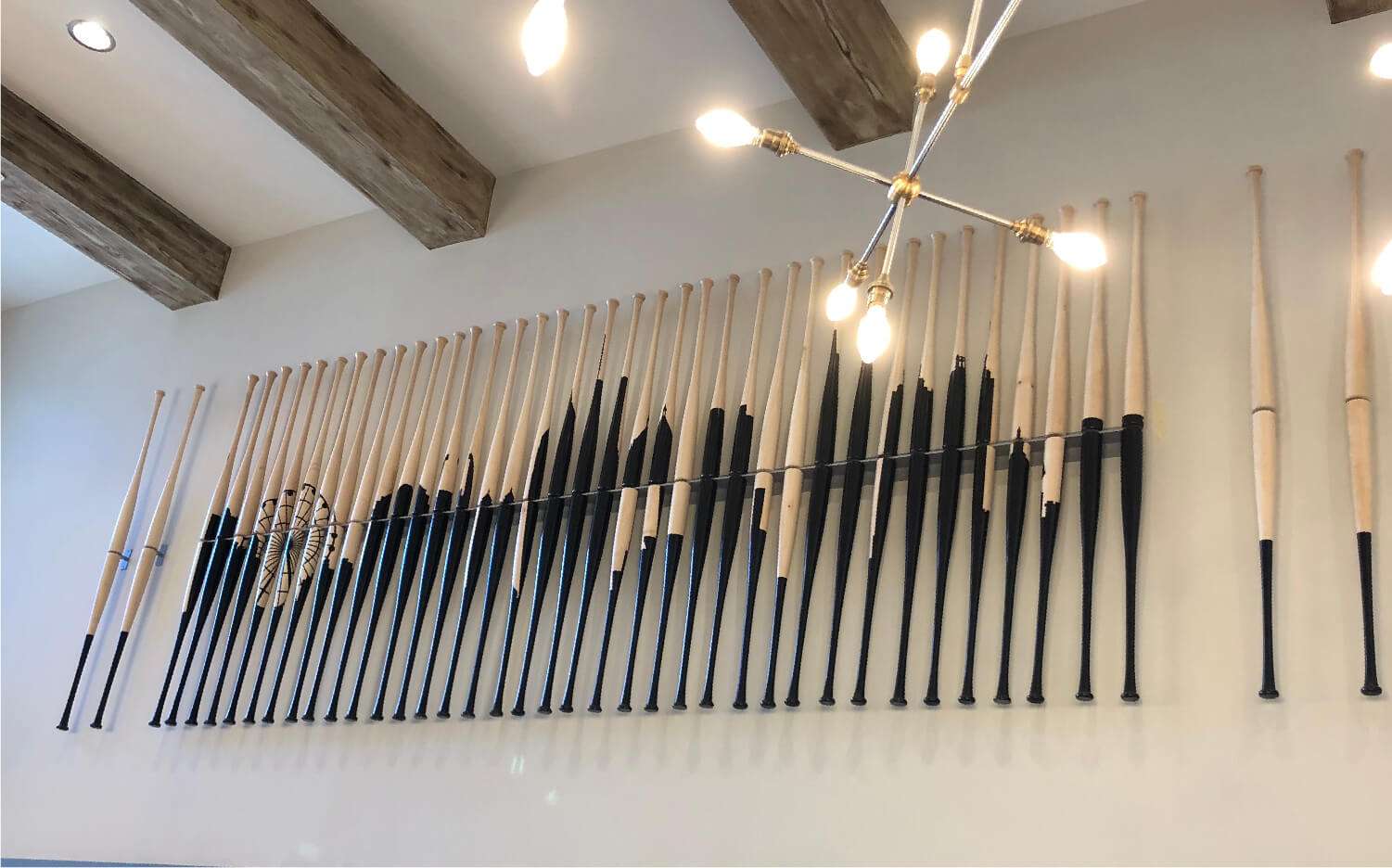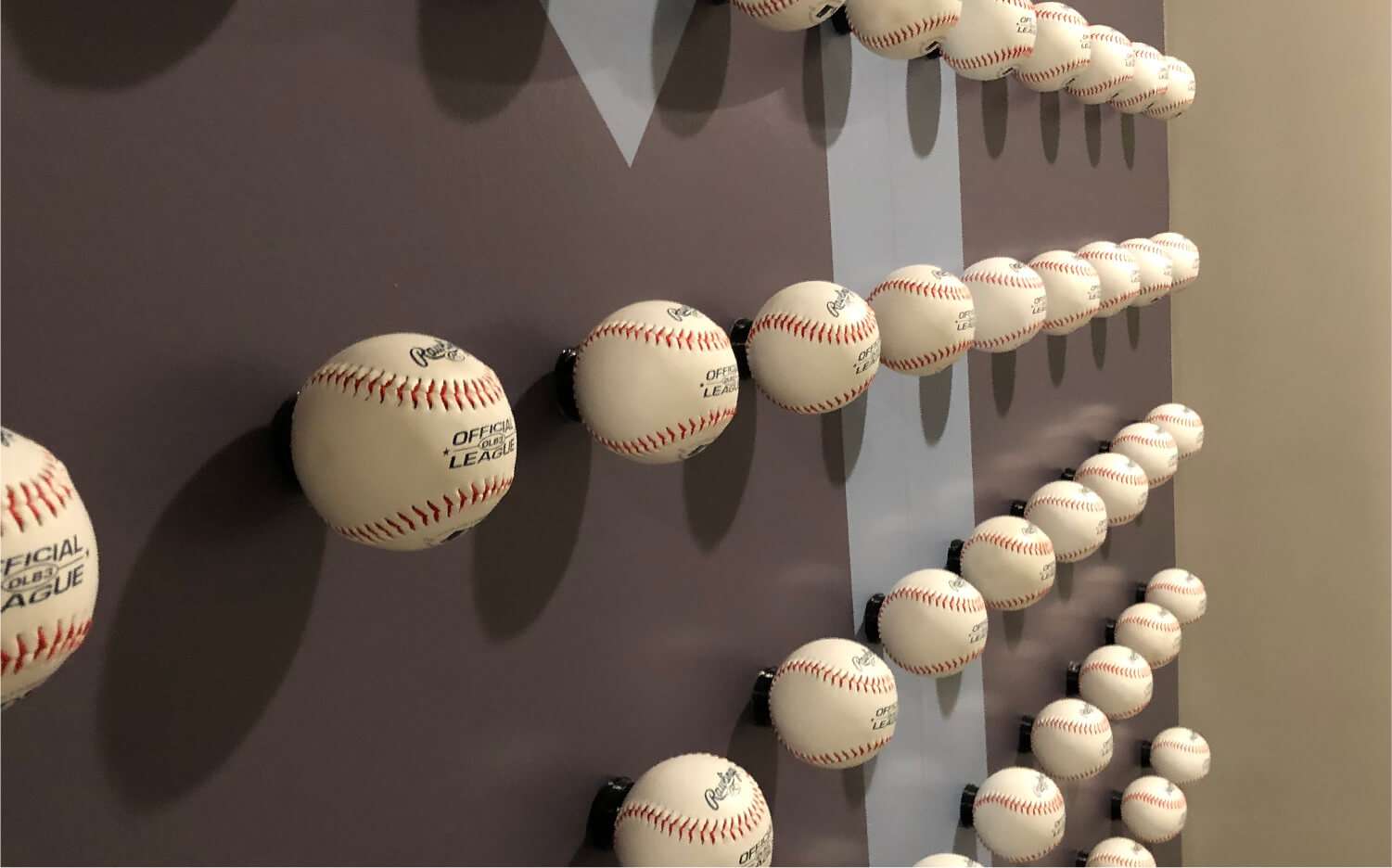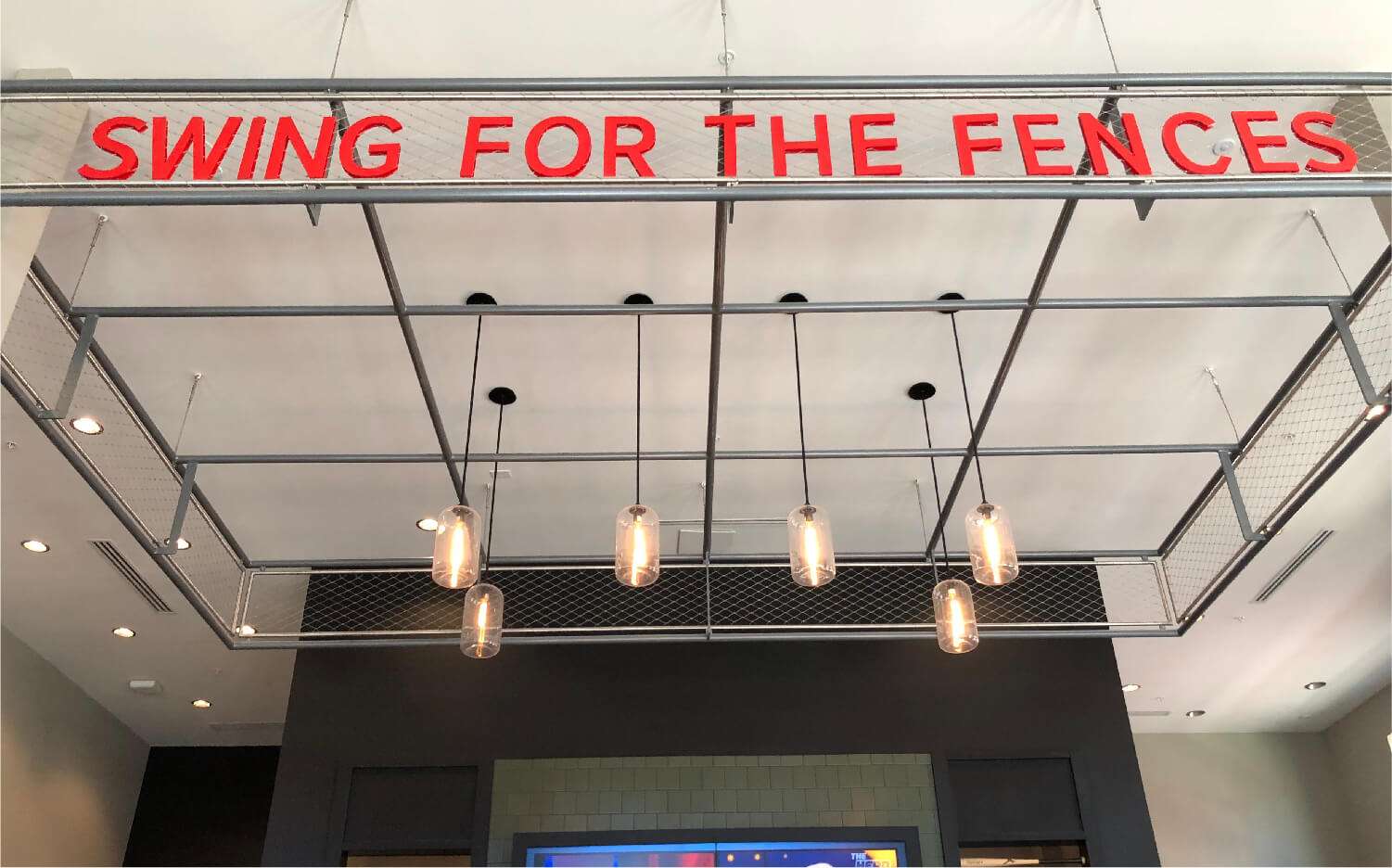 Installing creative and unique branded environmental graphics is a simple and relatively affordable way to elevate a team's brand, create a memorable school pride experience, and connect with the important people visiting campus. The same creative environmental graphic branding strategy can be applied to any business, healthcare, multi-family living facility, or community space.
The Right Team
Creating an environment that resonates is what Phase 3 is all about. We want to help your bricks and mortar location stand out by expressing who you are and making people feel like this is a place they want to be from the moment they walk into your buildings or onto your grounds. To do this, our team of experts will immerse themselves in your brand, walking the halls of your facilities, talking to your stakeholders, and embracing your overarching environmental priorities and goals.
That is exactly what we did at Samford University in Birmingham, Alabama. They partnered with us to enliven and bring personality to interior areas in its new University Center. For each design element, we utilized different materials to accomplish the desired look while meeting the facility's environmental standards. For one of the unique designs, our team used sign foam to create large white lettering in the primary stairwell. This made a subtle yet impactful statement about the school's purpose. Acrylic disks of various sizes hung in the window created a mobile sculpture, reflecting the school's colors in a primarily white space. To mirror the school's Bulldog mascot, we deployed vinyl wall graphics to illustrate a paw in little-used space under a stair, creating a comfortable reading nook. A custom magnetic design was created for the wall outside the Office of Student Life, allowing it to be updated as students graduated and moved on. We also used colorful rough wall adhesive for a brick accent wall to create a backdrop for "Instagrammable" moments. The entire project created a unique environment that elevated the school's brand and welcomed all students and visitors to the Samford University campus.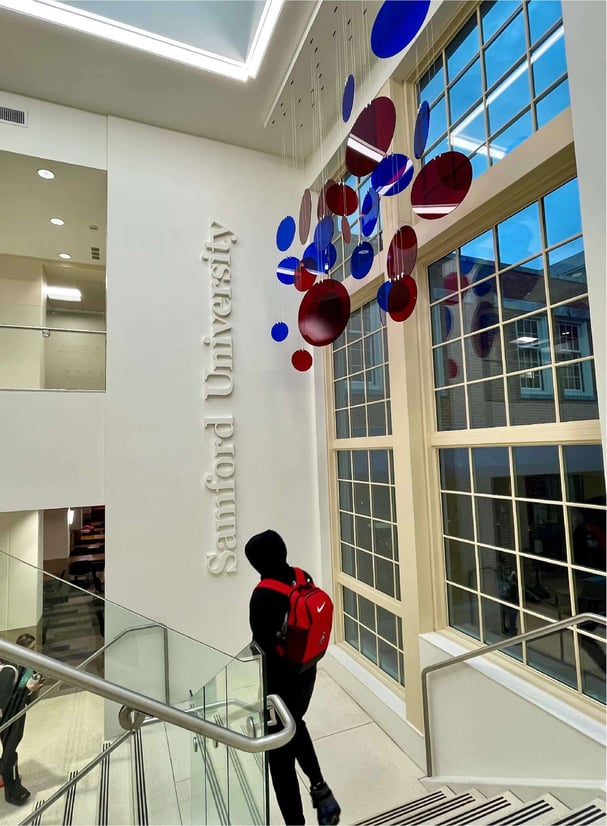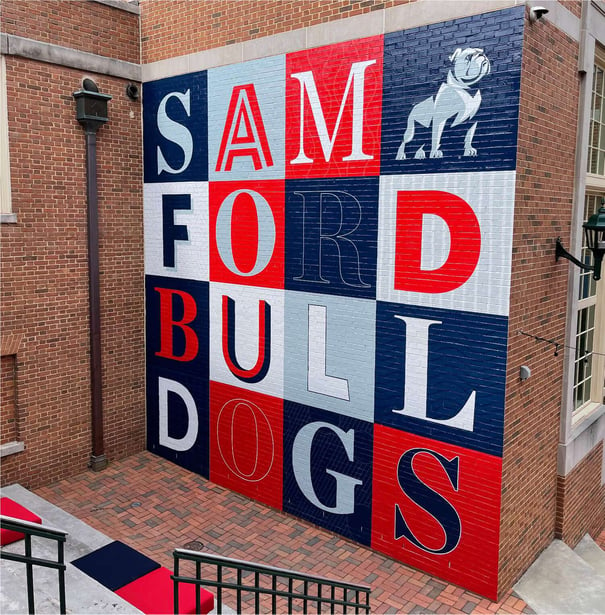 Custom-branded environmental graphics are a simple and relatively affordable way to enhance a school's athletic facilities, fields, stadiums, and classroom buildings and create those magical moments of belonging and kinship.
Install This Summer
The sheer number of creative possibilities in environmental graphic designs allows you to level up your first impressions game quickly and affordably. You can start planning in the spring and install during the summer, giving your facilities a whole new look by the fall.
Phase 3 has worked with dozens of primary, collegiate, and professional sports facilities and other large and small organizations. We know what it takes to create an impactful, immersive location experience. We would love to work with you to win your brand game. Give us a call today for more information about our expert environmental graphics team and what we can do for you.